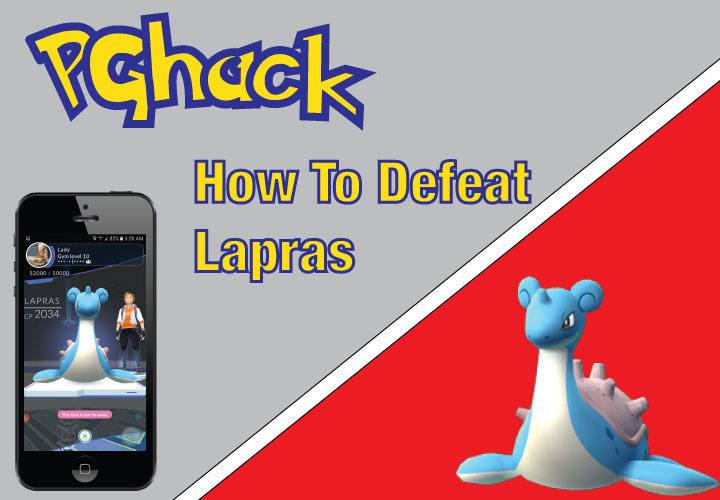 Lapras is a dual type Water and Ice Pokémon that uses Ice and Dragon type attacks. Having a high HP and CP, Lapras is one of the best defender in gyms. Lapras with Blizzard special attack is undodgeable.
Here are the strategies and best move set that is super effective on Lapras.
| Type(s) | Max CP | Base Attack | Base Defense | Base Stamina |
| --- | --- | --- | --- | --- |
| Water  Ice | 2981 | 186 | 190 | 260 |
Which Pokémon is best to take out Lapras?
In order to defeat Lapras, we will need a type advantage.
Type super effective against Lapras
Note: Steel and Fire are effective against Ice type but Water type resists Steel and Fire. So we will leave those out.
Expected Lapras' move set
The combination of Frost Breath and Blizzard is considered to be the best move set for a Lapras that is used for attacking.
The combination of Ice Shard and Blizzard is considered the best move set for a Lapras to defend gyms.
Best Pokémon to defeat Lapras
Since the best move set on a Lapras are all Ice type, Arcanine's Fire type can reduce the damage of these attacks. Both Arcanine and Charizard is the highest CP Fire type Pokémon but Charizard is a dual Fire and Flying type. Lapras' Ice attacks is super effective against Flying type, that is why Arcanine is the best Fire type Pokémon against Lapras.
Best move set for Arcanine to defeat Lapras
Steel type Pokémon resists Lapras' Ice attacks and Magneton is one of the two Steel type Pokémon. Magneton with Thunder Shock and Discharge, both Electric type attacks are very effective on Lapras.
Best move set for Magneton to defeat Lapras
Machamp is a Fighting type Pokémon and its moves, Karate Chop and Cross Chop are super effective against Lapras. Its stats is high enough to defeat Lapras.
Best move set for Machamp to defeat Lapras
Although Raichu could not reduce the damage from Lapras, its Electric type moves, Spark and Thunder are super effective against Lapras.
Best move set for Raichu to defeat Lapras