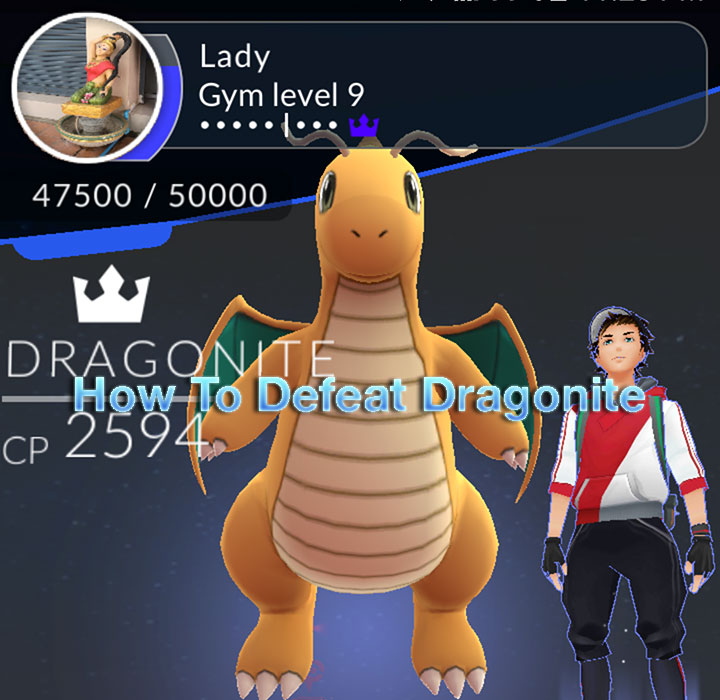 Dragonite is the second highest CP Pokémon in Pokémon Go, right below Mewtwo. Being in the league of the legendaries, a perfect Dragonite can reach 3500 CP at its max level. Its high CP combined with high base attack value makes it a good defender in gyms. So does Dragonite have any weaknesses? How to defeat this flying dragon?
Here are the strategies and best move set that is super effective on Dragonite.
| Type(s) | Max CP | Base Attack | Base Defense | Base Stamina |
| --- | --- | --- | --- | --- |
| Dragon  Flying | 3500 | 250 | 212 | 182 |
Which Pokémon is best to take out Dragonite?
In order to defeat Dragonite, we will need a type advantage. Dragonite is a Flying/Dragon type Pokémon.
Type super effective against Dragonite
Note: Electric is effective against Flying type but Dragon type resists Electric. So we will leave that out.
Expected Dragonite's move set
The combination of Dragon Breath and Dragon Claw is considered to be the best move set for a Dragonite that is used for attacking.
The combination of Steel Wing and Dragon Pulse is considered the best move set for a Dragonite to defend gyms.
Best Pokémon to defeat Dragonite
Gyarados with Dragon Breath is the best Pokémon to defeat a high CP Dragonite. Even though Gyarados is not a Dragon type Pokémon, but it can use Dragon type attacks (Dragon Breath and Dragon Pulse) which is super effective again Dragonite. On the other hand, Dragonite does not have a move that is effective against Gyarados.
Best move set for Gyarados to defeat Dragonite
But Gyarados lost Dragon Breath on the 8/20 update. So any Gyarados caught or evolved after 8/20 will only have Bite as the fast attack.
If you are still holding on to a Gyarados that has Dragon Breath and has high CP, this Pokémon will be perfect for attacking Dragonite.
Lapras with Ice type moves are super effective against Dragon type Pokémon. On the other hand, Dragonite with Dragon type moves deals reduced damage to Ice type Pokémon. But Lapras is not effective against a Dragonite which uses Steel Wing attack.
Best move set for Lapras to defeat Dragonite
Wigglytuff has higher stats among the Fairy type Pokémon. Fairy type moves are super effective against Dragon type while Dragon type move deals reduced damage to Fairy type.
Best move set for Wigglytuff to defeat Dragonite
When Dragonite has Steel Wing as its fast attack, Charizard is the better option than the above. As Steel Wing is a Steel type attack and it deals reduced damage to Fire type Pokémon.
Best move set for Charizard to defeat Dragonite